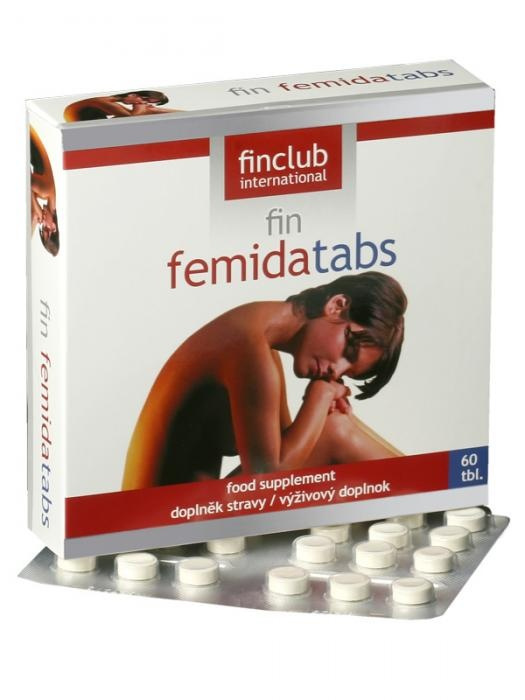 Catalogue number: 300925
EAN: 6428300002304
For men and women over 30
Product description
Femidatabs contain an extract from a fish protein produced according to the Japanese patent, it is enriched with zinc and vitamin E. This complex of substances supports nutrition of skin and helps to protect skin cells against premature aging. It is recommended for both women and men over 30 years of age.
Zinc acts as an antioxidant, it helps to maintain a normal state of bones, hair, nails and skin. It takes care of vision, immunity, it contributes to the process of cell division. It has positive effects on cognitive function, fertility and reproduction and for maintaining normal testosterone levels.
Vitamin E contributes to the protection of cells against oxidative stress - i.e. before the attack of free radicals which have the ability to damage cells and accelerate the aging process.
Parameters
Content
of active substances:
in 1 tablet: complex of fish protein 195 mg, vitamin E 5 mg, zinc 2 mg, purified diatomit (diatomaceous earth ), extract of acerola.
Package:
60 tablets
Recommended dosage:
1-2 tablets a day
Instructions for use:
first month 2 tablets a day – in the morning, after breakfast, then 1 tablet a day - in the morning, after breakfast. Not suitable for children under 3 years of age. This product is not intended to substitute a varied diet. Keep out of reach of children. Do not exceed the daily dose. Pay attention to the variety and balanced diet and a healthy lifestyle.
Distributor:
FINCLUB POLAND Sp. z o.o., 43-400 Cieszyn, ul. T. Kościuszki 33
Producer:
Hankintatukku Oy, Lehtolankatu 18, FI 03600 Karkkila, Finlandia
Why buy from us?
Plants from ecological
areas
More than 20 years
on the market