Certificates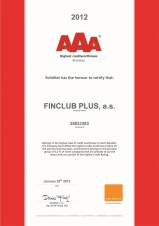 International award AAA
Award AAA is a strong independent rating of companies and enterprises, whose history dates back to the year 1908.
Awards are granted only to those companies which meet strict economic criteria and conditions of certification. Only 0.8% of entities operating in the Czech Republic reaches the certificate with grade A to AAA, the prestigious AAA rating may be obtained only by 0.2% of highest quality companies.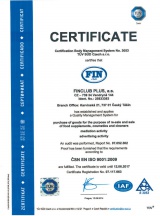 Politics of quality and grade in Finclub – certificate ISO 9001:2009
In the company FINCLUB plus, Inc. we consider as the most important reliability and superior quality of our products, but also service and services.
Means to meet the objectives of ensuring the quality of products is the introduction of a quality management system conforming to ČSN EN ISO 9001: 2009.
Successful implementation of the system was confirmed in June 2014, when the company Finclub defended the ISO certificate.
Why buy from us?
Plants from ecological
areas
More than 25 years
on the market