Moisturizing face cream: goji berries and pomegranate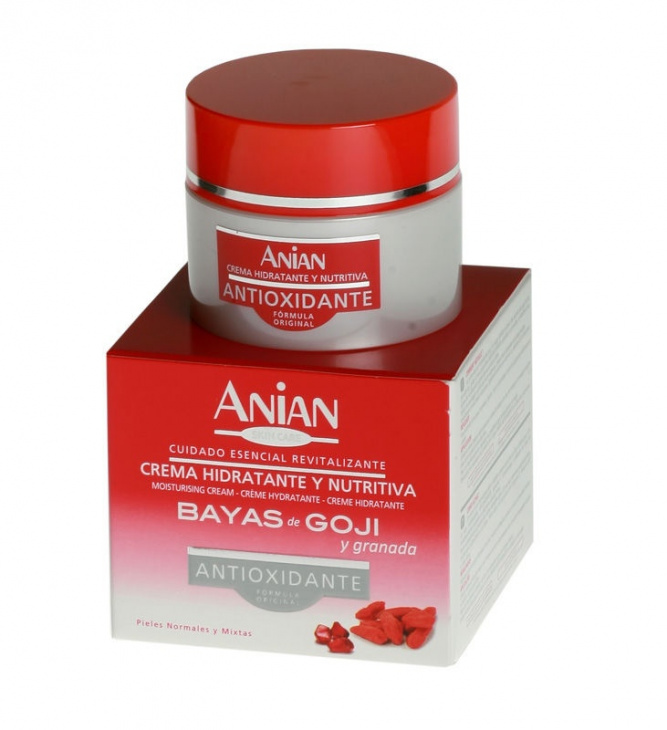 Catalogue number: 804003
The cream is intended for everyday use
Product description
Face Cream has a moisturizing effect, helps the skin to retain the needed moisture, helps maintain smooth, soft and fresh complexion. The cream is very easily applied and blended, leaves no feeling of greasiness. It is recommended for daily use, for both men and women.
The cream contains extract of goji (Chinese Wolfberry - grows on the slopes of the Himalayas, extreme climatic conditions gave Wolfberry bushes a unique ability to survive in harsh conditions, and significant content of beneficial substances) and an extract of pomegranate (pomegranate is one of the most valuable autumnal fruits that contain lots of vitamins and minerals, has significant nutritional properties). Other ingredients (vitamins, polysaccharides, Shea butter, aloe vera) nourish, refresh and sooth the skin.
Spanish Forenqui Laboratories have created a series of cosmetics, which uses the benefits of goji berry and pomegranate. Due to the fact that the cosmetics contain the extracts from these fruits , they are commonly called "red cosmetics." They are divided into two series of body care and face care.
Parameters
| | |
| --- | --- |
| Package: | 50 ml |
| Instructions for use: | Apply cream every morning to cleansed face and neck |
| Distributor: | Finclub POLAND Sp. o.o., 43-400 Cieszyn, ul. T. Kosciuszki 33 |
| Producer: | Laboratorios Forenqui, S.A. Camino de la Coma, Apartado de Correos 159, 46220 Picassent (Valencia) |
Similar products
Nourishing anti-aging face cream: fruit goji and pomegranate
Why buy from us?
Plants from ecological
areas
More than 20 years
on the market