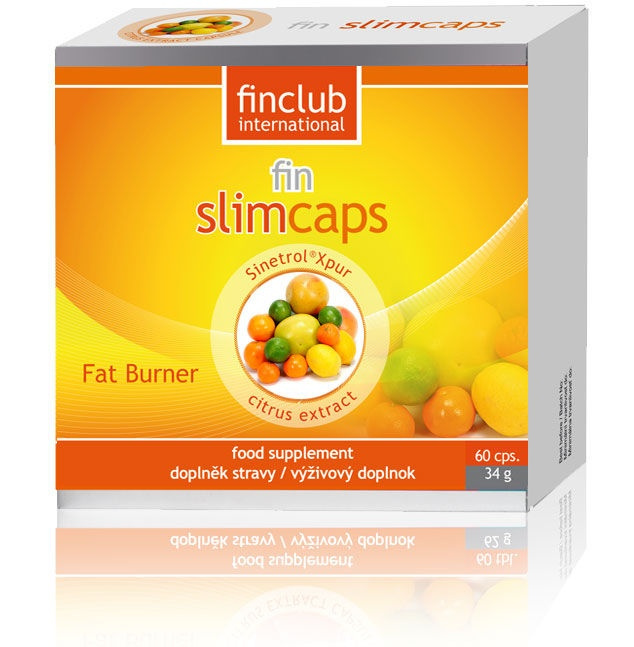 Catalogue number: 300147
EAN: 6428300002762
Citrus extract for weight control
Product description
Slimcaps contains a substance Sinetrol®XPur - a patented extract of citrus fruit (obtained from red oranges, grapefruits and oranges from the Mediterranean region), and guarana.
The extract of the herb Citrus aurantium helps with fat metabolism and this way it supports the weight control. It is useful in maintaining proper body weight, helpful in combating redundant kilograms. Suitable for both men and women, who want to stay in good shape. It helpswith normal digestion (regulates appetite), contributes to the function of the respiratory system or relaxation.
Guarana is beneficial to physical and mental vitality, energy and it is useful when you are tired. It supports the immune system, and normal digestion. It helps to control body weight and fat metabolism.
Parameters
Content
of active substances:
in 1 capsule: Sinetrol®XPur citrus extract 450 mg. The capsule shell contains beef and pork gelatin.
Package:
60 capsules
Recommended dosage:
1 capsule twice a day
Instructions for use:
in the morning and at noon with meal, washed down with a drink. This product is not intended for children, pregnant and lactating women. This product is not intended to substitute a varied diet. Keep out of reach of children. Do not exceed the daily dose. Pay attention to the varied and balanced diet and a healthy lifestyle.
Distributor:
FINCLUB POLAND Sp. z o.o., 43-400 Cieszyn, ul. T. Kościuszki 33
Producer:
Hankintatukku Oy, Lehtolankatu 18, FI 03600 Karkkila, Finland
Similar products
Spirulina - green microalga
Why buy from us?
Plants from ecological
areas
More than 20 years
on the market